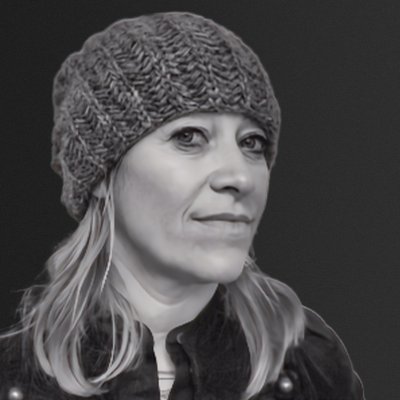 Linda Steinthórsdóttir
Iceland | 56 Kunstwerke im online-Depot
What you see is what you see.
Frank Stella, Maler, Grafiker, USA
Characteristics and Vita
Linda Steinthórsdóttir was born in Keflavik (Iceland) in 1968. She studied journalism and communication studies with a focus on art history and audiovision in Salzburg, Austria, and at the Salzburg International Summer Academy of Fine Arts with Varda Caivano. BURN-IN represents Steinthórsdóttir since December 2020 and already showed in June the exhibition Irritating Iceland, in which she brought us closer to the Otherworld, natural spectacles and natural beauty from her home island.
The works of Steinthórsdóttir (Northern Lights, Black & White Series, Glacier, Ash) can be attributed to minimal art. They generate as essence the identity of landscapes and nature. Whereby the simplicity of the form does not necessarily go hand in hand with a simplicity of the artistic experience. The works captivate with an enormous liveliness, which is difficult to put into words. These images, as simple as they may look, unfold their real magic and diversity depending on the angle of view or incidence of light. Just like the incredible facets of light, the reflections of light or the refractions of light on water and ice. The incredible, majestic color spectacle shimmers in all its natural, iridescent grace.

Her works in spatula technique are abstract and minimalist. In the change of light and perspective, the relief-like structures begin to take on a life of their own, subject to constant transformation. The multifaceted nature of Iceland is always a source of inspiration for Steinthórsdóttir. Natural materials, such as the ash of the Eyjafjallajökull volcano, which paralyzed Europe for days in 2010, can be found in the almost monochrome works and stand for transience, change and sustainability.
In addition to her artistic activities (exhibitions from 2005), the artist works for renowned media companies and organizations in the arts and culture sector as a sound engineer and camera assistant (ORF, Fischerfilm, Muhr TV, ARS electronica, Linz09, WKO, BFI, Voest). Steinthórsdóttir also acts as initiator and organizer for international symposia (ART DIAGONALE Traunkunst, 2016 | ART DIAGONALE II Region Korpúlfsstadir - Reykjavik, 2017 | ART DIAGONALE III, Museum Angerlehner and Symposium Hall Messe Wels, 2018). A gifted networker, she actively pushes the creation of a strong Iceland-Austria art axis.
Since 2000, she has lived and worked in Linz.
Warum BURN-IN
BURN-IN lernte Steinthórsdóttir auf der ART DIAGONALE in Wels im Museum Angerlehner 2018 kennen. Schon damals hinterließen die reizvollen, wirklich eigenständigen Interpretationen isländischer Naturschauspiele einen bleibenden Eindruck.
In ihren Arbeiten verbindet die aus Island stammende Künstlerin das Naturschöne mit dem Kunstschönen, indem sie das Polarlicht, Meeres- und Wetterleuchten, Vulkanausbrüche, Wasserfälle und Geysire sehr reduziert, häufig großformatig, inszeniert. Es entstehen Arbeiten voller Magie, die durch raffiniert changierende Farben und unerwarteter  Dreidimensionalität glänzen.
Anderswelt Naturschauspiele
Bereits Immanuel Kant und Theodor W. Adorno  schwärmen vom Naturschönen und der  bedeutungsvollen Naturbühne, auf der wirklich Dramatisches geboten wird. Ein Schauspiel, das immer wieder aufs Neue begeistert und zum Verbleiben einlädt. Genau wie Steinthórsdóttirs Arbeiten, die für private Kunstsammler und Corporate Collections größte Relevanz haben. BURN-IN sieht die Arbeiten darüber hinaus auch im Umfeld künstlerischer Interventionen für Organisationen, die mit Kunst relevante Themen aufgreifen und kommunizieren möchten.
BURN-IN freut sich sehr, Linda Steinthórsdóttir ab Dezember 2020 vertreten zu dürfen. Ein weiterer bedeutender Schritt für die zeitgenössische Galerie.
 
I had the pleasure to be present at the opening of Linda Steinthórsdóttir´s art exhbition  last November. I did not know Linda personally by then and I was honored by her kind invitation.

During my visit to Linz, I had the opportunity to see Linda´s paintings in her atelier as well as the work on exhibition. When I saw her work - also having learned that she has spent most of her adult life in Austria - the old saying came to me that "you can take a person out of Iceland, but you can´t take Iceland out of a person."
This I say, because in my opinion Linda´s work is deeply rooted in her home country. The colors and the texture, the ingredients and the ideas reflected in her work - it all brings you to the black sands, the white glaciers, the barren nature and the sometimes blood-red sky of Iceland. Her paintings are a tribute to Icelandic nature in all its variety, in all its beauty. They are very real - so real that one can even find pieces of Iceland in them such as particles from the glacier with the un-pronounceable name: Eyjafjallajökull.  

Last but not least I felt a lot of emotions in Linda´s work - respect for nature, love for her country of origin, passion for artistic expression, willingness and courage to experiment.  
This is what makes good art. It makes you feel - it makes you think - it even makes you wonder. I wish Linda, her family and friends a happy opening and all of you a joyful evening.
Auðunn Atlason, Ambassador of Iceland, Austria, 2015
Ausstellungen
2022 |

Mythos & Minimalismus

, BURN-IN Galerie, Wien, Österreich
2020 | Irisierendes Island, BURN-IN Galerie, Wien, Österreich
2020 | Hannesarhollt, Reykjavik, Island
2019 | Art fair leibzig | Van Goch Art Galerie,  Madrid, Spanien
2018 | Art Diagonale III | Museum Angerlehner, Talheim/Wels, Österreich
2018 | Galerie Sturm & Drang | Linz, Österreich
2017 | Hannesarhollt, Reykjavik, Island
2017 | Gallery 67, Reykjavik, Island
2017 | Art Diagonale – Korpúlfsstadir – Reykjavik, Island
2017 | Galeriehaus, Wels, Österreich
2016 | Art Diagonale Traunkunst, Museum Angerlehner, Talheim/ Wels, Österreich
2016 | Grundsteingasse, Wien, Österreich
2016 | Galeriehaus, Wels, Österreich
2015 | Galerie Rainer Füreder, Oberneukirchen, Österreich
2015 | Lifandi Markadur, Reykjavik, Island
2014 | Orkusyn, Hellisheidi, Island
2014 | 100 Frauen, ein Kunstwerk, Altstadt Linz, Österreich
2014 | Galerie Forum Konzentration Wels, Österreich
2014 |  Galeriehaus, Wels, Österreich
2013 | Galerie Halle, Linz, Österreich
2012/2013 | Hofkabinett, Linz, Österreich
2011/2012 | Academy Franz, Salzburg, Österreich
2011/2012 | Podium, Wien, Österreich
2011 | City Hall Reykjavik, Island
2009, 2010, 2011 | Remich, Luxembourg
2008, 20009 | Romm Service, Vienna, Österreich
2005, 2015 | jährliche Teilnahme in Ljósanótt, Icelandair Flugótelkeflavik, Island
Dauerausstellungen
2007- 2012 | Atelier Einfach, Tummelplatz 4, Linz, Österreich
2014–2016 | Isländische Botschaft, Wien, Österreich
2012-2017 | Atelier Hauptplatz 4, Linz, Österreich
2010–2019 | Eldey Ásbru, Reykjanes, Island
Seit 2012 | Kanzlei PFR, Nibelungengasse 11/4 Wien, Österreich
Seit 2013 | Maylan, Rainerstrasse 6-8, 4020 Linz, Österreich