about the artwork
Venice Film Festival 2016
FUJI Fotopapier
@ Rahoma
Die erworbenen Kunstwerke dürfen nicht zu Werbezwecken bzw. für politische Aktivitäten/Zwecke genutzt werden.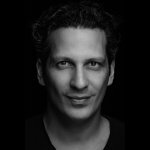 Karim Rahoma Austria
Karim Rahoma was born in Vienna in 1978, has Egyptian and Styrian roots and lives and works in Vienna. He is a freelance actor, director and freelance accredited cinematographer at international film festivals in Cannes, Venice and Berlin.
mehr lesen
Paula Beer
(2016)
Photography Paper 60 x 45 x 2 cm
€ 1.700
incl. 13% VAT
excl. shipping

Certificate of authenticity