Primary tabs
Welcome in
BURN-IN turns on the Viennese art carousel
The Countdown is running!
The BURN-IN format of the Summer-Exhibitons goes to the 3rd round. In July and August 2017, tradition and modernity blend into a unique melange. Viennese charm, incomparable atmosphere, sensual pleasure, spectacle, business & magic. All at once - in the Viennese BURN-IN Gallery.
---
For the year 2017 BURN-IN has choosen the annual theme of EMOTION and INTUITON and is looking for inspiring works, which lead to true enthusiasm among our collectors and art aficionados, sparking lightning and creating imagination, in short, two-dimensional or three-dimensional work, which emotionalised.
Because "Chance favors only the prepared mind"! (Louis Pasteur). Trust your intuition and show us all your high-calibers from your depot. Aggression, shame, grief, fascination, desire & desire, pleasure, longing and desire, affection, unconsciousness, insight, empathy are just some of the BURN-IN stimulus words with which we want to lure you from the reserve.
Our four-headed curator team is looking forward to your online-application April 2, 2017 at the latest.
Special summer exhibition format
Historical rooms with a height of 4.50 meters
Large window surfaces for inspiring insights
State of the art multimedia presentation
Individual marketing and branding workshops in small groups of up to 5 persons, tailor-made according to your personal requirements
Extraordinary cultural standing of Vienna
More than 2.7 million summer tourists, the majority with a high affinity to art. Gallery and museum visits are at the top of the cultural program.
Deadline
April 2, 2017
Combine a BURN-IN exhibition in our exclusive gallery and enjoy an unforgettable stay in Vienna!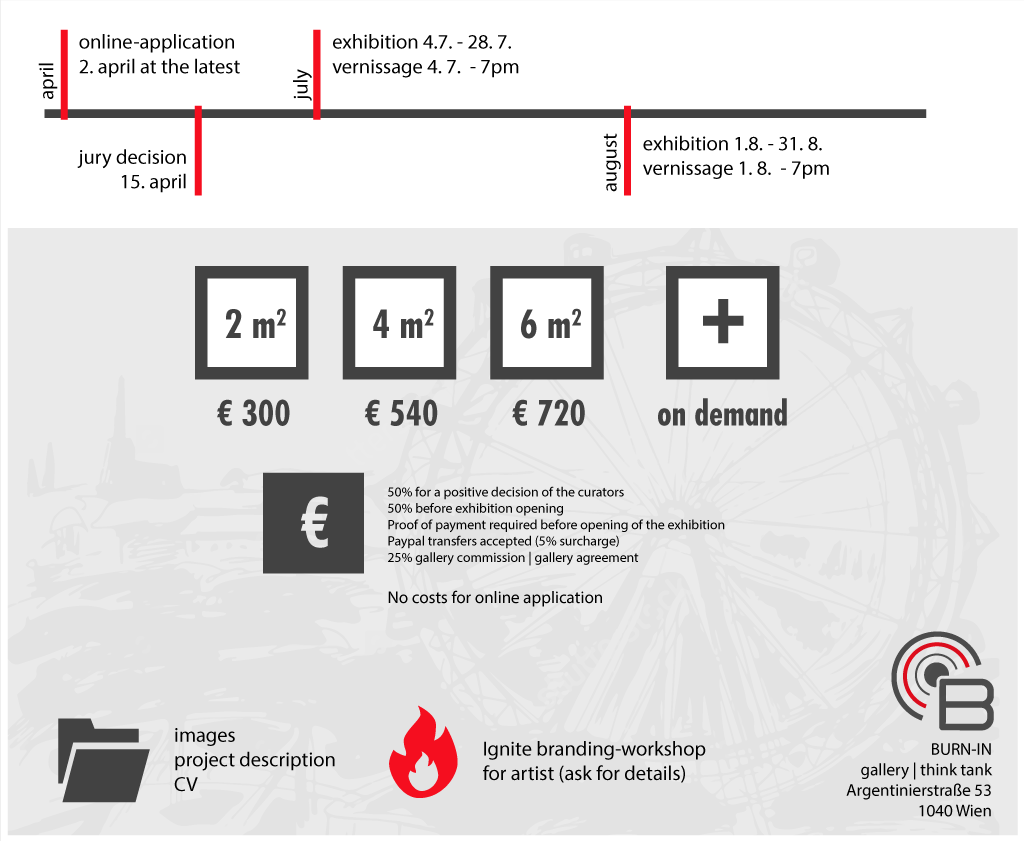 Your art is in good hands with us!

The BURN-IN team is looking forward to a fruitful cooperation!