take a virtual tour
A subtle Christmas exhibition about the natural and artistic beauty and the common good of all of us for the contemplative Christmas season.
In the shadow of the natural beauty, the tender little plant of the common good that connects us all, which is existentially threatened worldwide, withers almost unnoticed by many. A dying species that relies on trust, appreciation, respect and love and recognizes that for sustainable survival, harmony between humanity and nature is needed. Especially in the current demanding times, where the challenges of the pandemic are clearly noticeable for everyone, we should become aware of these values again, inhale them and live them. Similar to a photosynthesis, whose exchange secures the existence of all species. For many millions of years, nature has reflected to us this fascination of growth and decay. So of course it makes sense to question, reconsider, adjust the balance between personal freedom and the common good, to develop a sense of the common (common good) and to live it.

With the current BURN-IN CHRISTMAS COLLECTION, we are merging natural beauty with contemporary art beauty in the spirit of Theodor W. Adorno, presenting the collective best of the BURN-IN portfolio in an extensive virtual show. Established artists with an independent signature. Strong personalities with clear statements on social and political developments. Emotionalizing stories with depth that question the current canon of values and convey meaning as a reflection.

With special pleasure and great pride, I cordially invite you to this special virtual pre-Christmas art journey! Stroll through the just-opened BURN-IN VIRTUAL SPACES, enjoy this wonderful art time-out, and secure your favorite works in the BURN-IN online depository!

Contemporary art as an inspiring elixir for a more beautiful, meaningful life - for individually staged living and working environments and, of course, for passionate collecting.
Sonja Dolzer
Founder BURN-IN Gallery
With the 42nd art-feature, curator Alberta presents a colorful bouquet of contemporary art from BURN-IN, showcasing a best-of of the gallery in the newly designed virtual loft.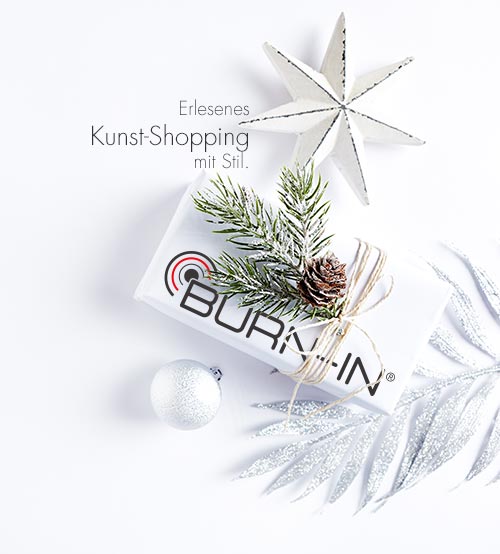 This is where Richard Fischer's international photographic art (Ambassadorf of Flowers | SILENT SCREAM) meets the sculptural extraction with all its symphonies, curves and waves of Aurora CID, Ellen Semen's Floral Militancy and Biedermeier Reloaded meets DG Smalling's highly diverse One Line ART, Eva Pisa's satirical lines and surrealism on Isabelle Habegger's globe-trotting Voyage, Linda Steinthórsdóttir's Icelandic Otherworld minimalism on Asit Poddar's purist works surrounding Indian myths and places, Ares Yannakopoulos' narrative photo stories and his OTHER SEEING on Nino Perrone's vibrant, highly color dynamic Mediterranean pointillism, Martina Hamrik's contemporary Sporty Loops loop paintings on Sabine Nessling's expressive Urban Contemporary Art, Tiziana Trezzi's photorealistic, masterful portraits of women to Ladislav Černý's expressive monumentality with all his deeply moving snapshots of life, Philomena Pichler's naive painting and her ecological forest of images to Ernst Platt's marble nudes, and Tomislav Sabolić's romantic city views of his hometown.
artist
Isabelle Habegger
Switzerland
DG Smalling
United States
Philomena Pichler
Austria
Tatiana Siedlova
Slovakia
Ares Yannakopoulos
Germany
Linda Steinthórsdóttir
Iceland